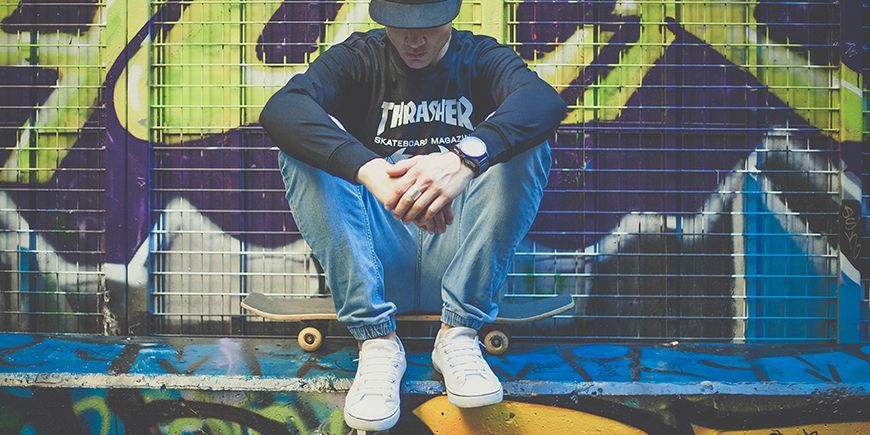 Australian Skate Fashion Chooses Function Over Flashy Trends
Skate culture has deep, rich roots in Australia. This is evidenced by Vans' decision to kick off its Pro Skate Park Series competition in Melbourne this year. Photographer Mike O'Meally is highly regarded as one of the most influential skate photographers of all time, and he hails from Australia. Sydney is home to a slew of legendary skate parks like Monster Skate Park, Waterloo Fernside Skate Park, and Bondi Skate Park. In fact, skate culture has been alive and well all over Australia since the 1970s. And the culture's mark is felt heavily when it comes to men's fashion.
At its best, skate fashion combines the best of streetwear trends and functional menswear. Skateboarding fanatics are part of a counterculture, and their sartorial aesthetic definitely represents that.
More than anything, skate fashion is about minimalism. At a skate park, skaters need to move freely in their clothing. What they wear isn't so much an expression of their personalities as it is about ease of movement. Dark colors (like black and charcoal gray) as well as neutrals are common.
Bits and pieces of 90s grunge and punk culture seep into today's popular skate fashion. Whether it's a long-sleeve flannel shirt, a pair of Dickies khakis, or a snapback, the influence of yesteryear's alternative heroes can be felt in skate parks across Australia.
One of the most noticeable trends in skate fashion is the logo tee (or sweatshirt). Pro skaters often pledge allegiance to certain brands that act as sponsors. Their fans follow suit rocking bold logos from brands like Thrasher and Palace. But don't mistake the heavy appearance of logos as selling out or giving into mainstream fashion trends. These brands cater to and understand skateboarding culture. They aren't simply trying to capitalize on it. They are a part of it.
When it comes to pants, you'll find more similarities between skate fashion and more mainstream streetwear. Joggers reign supreme. The most popular versions are cut slim with tapered legs and made of lightweight chino material. Skinny dark denim and slim chino pants are also favorites of the culture.
Perhaps the greatest differentiation between modern streetwear and skate fashion is footwear. Mainstream footwear is going through somewhat of a creative revolution with neon designs, metal hardware, high tops, and technical innovation (i.e. Nike's self-lacing sneaker). But skate footwear is about function and what works best on a skateboard. It's common to see classic pairs of Vans, Converse, and Pony sneakers. The basic, low-top sneakers provide the perfect balance of masculine style and athletic support. They aren't flashy, but they're just enough.
Concerning accessories, snapbacks and beanies are go-to choices year-round. It's often common to see skaters rocking wool beanies in the summertime. It's an unofficial part of the uniform. It's more about completing a look than fighting the elements.
Australia's skate fashion functions like the antithesis of a fashion show but embraces the way men view and use clothing. Passion for skateboarding comes first. Clothing is second. Skate fashion represents a welcome return to the basics.