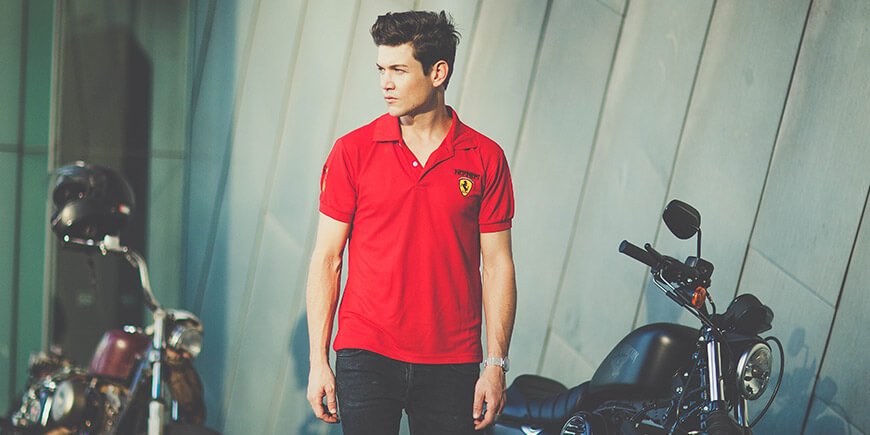 Smart Polo shirts are the key to effortless summer style
When it comes to summer style, it's important to keep cool in the heat while still looking stylish. This means less layers and less effort. The modern incarnation of the polo shirt achieves both goals. Brands like Ferrari, Ralph Lauren, and Porsche have perfected the fit, fabrication, and design of polos that are sure to be staples in your summer wardrobe.
For a long time, polos have had a bit of a bad rap. They've been considered part of the uniform for upper echelon sports like golf and tennis. A polo shirt is defined by knitted cloth that has a collar, placket with two or three buttons, and an optional pocket. Polo shirts are often made of piqué cotton. But luxe versions are constructed from silk, merino wool, or fine synthetic fabrics.
The first polo was worn by tennis great René Lacoste at the 1926 U.S. Open championship. He designed a white, piqué cotton polo as an alternative to the clunky, stiff wardrobe of tennis players of that era. Of course, Lacoste went on to become a polo empire and expanded into various aspects of contemporary menswear. But soon after René Lacoste began selling his new designs, many brands followed suit including Brooks Brothers and Ralph Lauren.
Though a polo shirt is most certainly the answer to definitive summer style, there are some key features to look for when purchasing the perfect piece.
Watch the length of your polo shirt. Ideally, you'll be wearing your shirt untucked. Most polo shirts are designed with a longer back end. It's important to select a size that hits at all the right points in front and in back. If your untucked polo covers more than half of your back pockets, it's far too long. Be sure to catch a glimpse of your look in the mirror from all angles before checking out.
Pay close attention to the fit of your sleeves. You'll want to choose the best option based on your physique. If you've spent all winter working on your bicep curls, you may want a short sleeve that's ribbed and shows your off your hard work. If you failed at your fitness New Year's resolution, you might opt for a sleeve that's a bit looser. This is a key detail to pay attention to when selecting your next polo.
The placket is also an important detail. If you're wearing a polo during the summer, you'll probably keep it unbuttoned in most instances. Polos with a deep placket (i.e. more than 3 buttons) can look flimsy when unbuttoned. And they can show off a lot more of your chest than you've bargained for (which can be a good thing depending on how much you've worked out).
When you've finally landed on the perfect polo, wear it casually. Avoid common fashion missteps like tucking it in or popping the collar. Also avoid undershirts. Your polo will be cut slim, and an undershirt adds unwanted bulk.
If you take the time to tweak these details, you'll pull off flawless summer style in your new polo shirt.